Watch Videos
G1 Voice Pager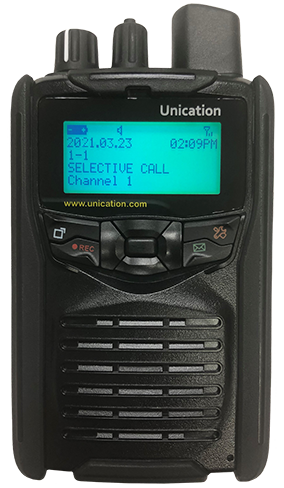 Designed for Public Safety
The Unication G1 Voice Pager offers BEST in class reception & voice clarity, so calls come through loud & clear, even in fringe coverage areas. The G1 is rich with standard features that include customizable alert tones, 7 programmable backlight colors, 16 minutes stored voice, and 11 minutes of voice memo. This device is a software-defined pager that allows you to keep your current device updated with the latest features & functionality. Don't miss the most rugged voice pager on the market!
Unication G1 Features
Supports up to 64 Channels
Scan Modes: Normal (Probability Scan) Free, Priority, Silent, Monitor, Selective
Signaling Options: 2 Tone, 5/6 Tone, CDCSS(DPL), CTCSS(PL)
IP67 Rating (Waterproof and Dustproof)
Submersible Up to 3 ft for 30 Minutes
16 Minutes Voice Storage
11 Minutes Voice Memo
Customizable Alerts
7 Backlight Colors
Message Lock/ Screen Lock
Duty On/Off Feature
Programmable Voice Alerts
2-Year Standard Warranty (5-Year Option)
Software Defined
Available Models
Low Band 33-39 MHz
Low Band 43-49 MHz
VHF 137-153 MHz
VHF 148-164 MHz
UHF 450-520 MHz
UHF 465-485 MHz
UHF 495-512 MHz
G1 Downloads
Newsletter
Enter your email address for exclusive offers and previews of new wireless solutions.
Quick Links
Speak to a Consultant
To request free consultation by phone, call 616.642.3881

Consultants are available Mon-Fri 8:00 AM - 5:00 PM CST
Request Information
Click here
to request more information including a live demonstration.