Watch Videos
G3 P25 Dual Band Voice Pager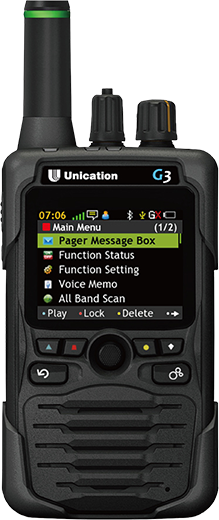 VHF & UHF Dual Band P25 / Analog 2-Tone Pager
Introducing the Unication G3 public safety pager. This rugged pager supports Analog 2-Tone Conventional, P25 Trunking, and P25 Conventional. It is a dual band voice pager available in VHF/UHF frequencies.
Unication G3 Key Features
Accommodates multiple P25 trunked and P25 conventional systems
Available in VHF/UHF frequencies
Supports up to 512 control channels per trunked system
Supports full spectrum scan for P25 trunked systems
Supports multiple TGIDs for monitoring and alerting
Supports priority TGID scan
Supports multi-select for efficient use of traffic channels
Allows for customized alerts using WAV/MP3 files
Alerting options based on a selector knob setting
Each band supports P25 trunking, P25 conventional, conventional channel monitoring and 2-tone decoding
Full 2-tone function mode support (selective call, monitor, scan options)
Supports multiple 2-tone codes per frequency
Unication G3 Models
G3 P25 Voice Pager – VHF & UHF Dual Band P25 / Analog 2-Tone
Available Models
VHF 136-174 MHz & UHF 380-430 MHz
VHF 136-174 MHz & UHF 400-470 MHz
VHF 136-174 MHz & UHF 450-520 MHz
G3 Downloads
Newsletter
Enter your email address for exclusive offers and previews of new wireless solutions.
Quick Links
Speak to a Consultant
To request free consultation by phone, call 616.642.3881

Consultants are available Mon-Fri 8:00 AM - 5:00 PM CST
Request Information
Click here
to request more information including a live demonstration.