Watch Videos
Employment
Technician
Description
Begin a challenging career as a wireless communications technician with a successful 60 year old technology leader. We offer a very competitive compensation plan and a wide variety of wireless systems to work on.
As an employee of our organization you will be supported with:
Competitive compensation package
Family health Insurance Plan, Simple IRA
On-going wireless system training
Job Description:
We're looking for high-energy individuals with outstanding technical and interpersonal skills to maintain and install Motorola Solutions communications equipment to new and existing business and public safety clients in our territory. As a communications technician for a locally owned independent Motorola Solutions Authorized Dealer, you'll be backed by the world-class resources, products and solutions of Motorola Solutions.
Responsibilities:
This highly motivated communications technician will be responsible for:
Installation and maintenance on a wide variety of wireless communications systems for business and public safety clients
Customer satisfaction and loyalty
Requirements:
If you have the following qualifications, we want to hear from you:
Ability to succeed in a competitive environment
Strong technical and communication skills
Excellent work ethic
Strong mechanical skills
Self-starter attitude
2 year associates degree in electronic technology
Valid driver's license and good driving record
Ability to acquire high level security clearance
IT training and experience will be a valuable asset
If you have the drive to succeed, we have the job that can meet or exceed your expectations.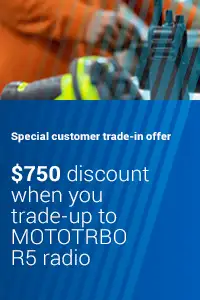 Newsletter
Enter your email address for exclusive offers and previews of new wireless solutions.
Quick Links
Speak to a Consultant
To request free consultation by phone, call 616.642.3881

Consultants are available Mon-Fri 8:00 AM - 5:00 PM CST
Request Information
Click here
to request more information including a live demonstration.