WAVE PTX Dispatch

Centralized Communications Anywhere. Anytime.
Simplify day-to-day operations with WAVE PTX™ Dispatch. Login from any Internet connection and get access to all the communication tools you need to manage your resources and coordinate an effective operation. Regardless of location, with WAVE PTX™ Dispatch you're just a click away.
Set Up Operations Anywhere
WAVE PTX™ Dispatch lives in the cloud, not on your PC, freeing you from maintenance and manual software updates. Securely sign into WAVE PTX™ Dispatch from anywhere with an Internet connection and a standard web browser.
Communicate in an Instant
Keep in touch with your teams and field personnel wherever they are with WAVE PTX™ (Push-To-Talk Service). Monitor communication traffic and instantly connect with groups and individuals at the touch of a button.
Share the Details
When the details are important, ensure your team has all the information they need. With integrated messaging you can send text, photos, video and files to groups and individuals in a familiar message thread format. See the location of your team, search for an address or point of interest and improve coordination and planning.
WAVE SafeGuard Package
This package set includes: LMR Interoperability, Emergency Calling & Alerting, Ambient Listening, User Enable/Disable, Remote User Check, Discreet Listening, and Location-Based Temporary Groups (dispatcher-only).
Emergency Calling and Alerting
Whether you are an undercover officer in need of assistance during an arrest, a utility worker injured at a remote job site, or an EMT dealing with a hallucinating patient, you need priority communication with those who can help at the touch of a button. MCPTT-compliant Emergency Calling and Alerting provides ease of use and fast, secure, reliable communication when it's needed most - to protect a team member's safety during an emergency.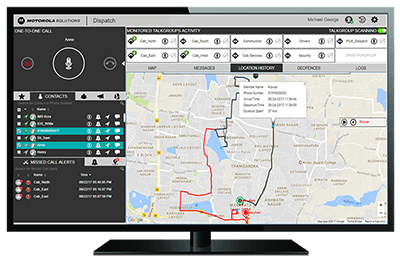 Key Features:
Secure Internet Login
Monitor Multiple Groups
Group, Individual and Broadcast Calling
Call Logging
Supervisory Override
Alerts
Secure Messaging
Mapping
Location with History Tracking
Alerts
Geofencing
Broadcast Calling - One Way Message Up To 500 Users
Specifications:
Windows 8.1/10 Support
Chrome/Internet Explorer Support
20 Talkgroups
300 Contacts
Resources
WAVE PTX™ Dispatch Data Sheet
WAVE PTX™ Dispatch User Guide 9.1
WAVE PTX™ Dispatch User Guide 10.0.1
Newsletter
Enter your email address for exclusive offers and previews of new wireless solutions.
Quick Links
Speak to a Consultant
To request free consultation by phone, call 616.642.3881

Consultants are available Mon-Fri 8:00 AM - 5:00 PM CST
Request Information
Click here
to request more information including a live demonstration.