Motorola Antennas

Motorola offers a full line of Antennas and Antenna Accessories designed for use with your Portable and Mobile Two-Way Radios.
Get The Best Possible Reception Wherever You Operate
Motorola antennas are sturdy and dependable for years of fail-safe communication.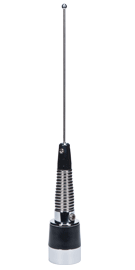 Flexible Whip Antennas
Flexible Whip Antennas have a one-piece finish, steel core, and spiral wound conductor for optimal radiation characteristics.
Stubby Antenna
Stubby antennas are ideal for radios worn on the belt because they are short and non-obtrusive. These rugged, helical antennas feature a capless sheath that allows for maximum flexibility.
Heliflex Antennas
Heliflex antennas are engineered for maximum output and coverage. Stubby antennas are unobtrusive, ideal for wearing the radio on a belt. Whip antennas are one piece with a steel core for optimal radiation.
Frequency Band
Most antennas only cover a portion of a frequency band. Motorola's wideband UHF and VHF antennas offer coverage across the entire band, enhancing your communication flexibility.
Integrated GPS
A GPS antenna is integrated into the RF antenna.
Downloads
Motorola Commercial & Professional Radio Accessory Brochures
Motorola Public Safety Radio Accessory Brochures
Newsletter
Enter your email address for exclusive offers and previews of new wireless solutions.
Quick Links
Speak to a Consultant
To request free consultation by phone, call 616.642.3881

Consultants are available Mon-Fri 8:00 AM - 5:00 PM CST
Request Information
Click here
to request more information including a live demonstration.